June, 2009 Update
We have been making progress in Ghana. The Adele Women Association in Nkwanta 'Upper Volta' Ghana have been trained in International Permaculture Sustainable Eco-Agriculture!
We want to thanks all those who donated to make this possible.
Sincerely,
Adjoa Linda Fletcher
Veronica receiving International Permaculture Certificate
Janet receiving International Permaculture Certificate
Our Elder Adduni was a consistent worker and was also a constant reader and collector of information. Our goal is to have her books and sewing collection sent to Adele - Nkwanta Ghana!
She cherished the work ethic of and believed that African people must build, create and sustain our future for generations to come. She studied Booker T. Washington.
I am reading one of the books that Elder Adunni left for us to read called, 'Economic Power - The Original Plan of Booker T. Washington, edited by Theora Richards.....
Theora quotes from Booker T. Washington's book, "Working With The Hands".
"Our pathway must be up through the soil, up through swamps, up through forests, up through streams and rocks, up through commerce, education, and religion! In my opinion, we cannot begin at the top to build a house. If we try to do this, we shall reap in the end the fruits of our folly".
Booker T. Washington
Check out our new Ghana Nkwanta Myspace Website!
they are intense, they are bold,

They are intense with the truth,

they know the immediacy of our predicament.

and bolder with the truth,

who were once and still are,

Captive Afrikan Survivor Refugees,

thinking that we can find comfort in material enslavement.

Slaves of consumption, that were once the currency,

the objects of ruthless inhuman materialism,

selfishness, and ugliness,

and now consuming our own demise...

Trapped and captive and even trapping each other...

We would not know a Harriet Tubman,

nor would we know a Malcolm X,

or understand the messages beneath the bold face .....

A Harriet Tubman or a Malcolm X would seem strange or odd,

by not being complacent, not conforming, or consumed by an Ipod,

Not waiting for the next gadget or pacifier of lies...

Complacency does not understand "a driving force",

Many are afraid of it.. not wanting to wake up,

wanting to be drugged by things instead...

Some come between us and amongst us... 

Possessed with the truth.

On a mission to wake us up,

and to give our enemy hell.

Knowing fully well that we are on a battle ground.

Those bold spirits so fortunate to have never accepted

or wallowed in enslavement. 

ELDER ADUNNI OSHUPA TABASI WAS ONE OF THEM...

I must humble myself with humility,

and honor to have known a powerful force,

Elder Adunni Oshupa Tabasi.....

 

Elder Adunni Oshupa Tabasi 

March 30, 1934 
to January 7, 2008

 
In the Spirit of Adunnism !
<<<!!!>>> <<<!!!>>> <<<!!!>>> <<<!!!>>> <<<!!!>>> <<<!!!>>>
It is with Deep Regret that I even have to post the fact that Our Beloved Mother, Warrior Guide has become an Ancestor! It is our responsibility as a people to understand her life's work and to continue it! As she would say "it is about the Future, it is about planning for those unborn and having babies, giving birth and building an environment conducive for US! We cannot continue down the road that we see that Others are planning for us "We Must Not Become a Homeless People! It is time for us in the true spirit of being Afrikan people wherever we are to build self-sufficient communities."
Elder Adunni knew deeply and clearly and acted accordingly to the fact that we are in a fight for our very existence and for our future. She chose to duke-it out and that we have no time to waste in fighting for our existence. She fought on all fronts!
<<<!!!>>> <<<!!!>>> <<<!!!>>> <<<!!!>>> <<<!!!>>>
Elder Adunni Oshupa Tabasi was in born in Harlem on March 30, 1934. Her enslaved name was Evelyn Mildred Price. She legally changed her name to Adunni Oshupa Tabasi. Her enstooled name was NuNu Afua Frie-Frie II. She made her transition on January 7, 2008. Her family and the Afrikan community are making arrangements for a Home Going Ceremony and for her remains to be sent to Kratchni Nkwanta, Ghana. The village Kratchni Nkwanta means 'Cross Roads of People'. Most of the plans so far are tentative. We will have another meeting today, Saturday 12th , to work on more details. The Home Going is tentatively scheduled for February 9, 2008 from 2 pm to 6 pm. The location has not been finalized. We want drummers, dancers, poets, all those that loved her to come out and show their love and commitment to help us ALL to move forward and finish her work which is really OUR work. It is going to take many life times to complete.
To send funds to the Ghana Nkwanta Project make checks payable to Linda Fletcher, PO Box 6283 Bronx, NY 10451
Also, we are working on a chronology of Elder Adunni's activities. All those who want to contribute and share please contact Linda Fletcher at 646-730-4332.
Please click to find photos of Elder Adunni Oshupa Tabasi taken by Evelyn Oliver at the Afrikan Burial Ground's Kwanza Celebration in 2007.
>>>!!!!<<<<!!!!!>>><<<<!!!!>>>
Afrikan Burial Ground 2003
In Loving Memory for our Beloved Elder Adunni Oshupa Tabasi; PLEASE CLICK AND READ
URGENT APPEAL!
>>>!!!!<<<<!!!!!>>><<<<!!!!>>>
URGENT APPEAL!!!! Please Click on Link Appeal Letter! >>>!!!!<<<<!!!!!>>><<<<!!!!>>> WE NEED YOUR DONATIONS - SO THAT WE IN THE DIASPORA CAN HAVE LAND DEVELOPMENT IN AFRIKA.....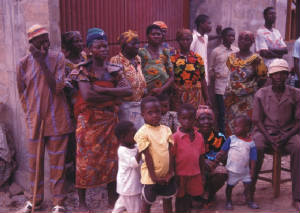 PURPOSE
GHANA NKWANTA PROJECT GROUP
The purpose shall be to restore dignity and pride in the "CAPTIVE AFRIKAN SURVIVOR REFUGEES". (CASR) Only those who are AFRIKANS genetically and the children of those enslaved Afrikans can be included in this project.